Join us in Boston.
We'll be hearing talks from leading open source developers and web operations luminaries, and then taking what we've learned to apply it towards advancing the state of open source monitoring and trending software.
Why me?
Because you care about the tools that you work with. You're an artisan within your team and want to help improve the work environment for you and your peers. We've all heard that monitoring sucks, but you want to do something about it.
Boston in March?
You better believe it. The end of March is already in Spring and the weather is starting to warm up. Bring a light jacket and prepare to kick ass.
I'm convinced. What now?
As of November 21, we've sold out of all general admission tickets. However, you can join our Waiting List and we'll notify you if any tickets become available.
Not Your Average Single-Track.
Monitorama takes place March 28-29, 2013 in Boston's NERD Center. Thursday is dedicated to single-track sessions that should educate and inspire you for the activities to come. On Friday plan to roll up your sleeves, break out into workshops to level up your artisanal tools (e.g. Logstash filters, D3.js, etc), or jump right into the hackathon and pair up with a team or hack on your own.
Thursday
08:00-08:45
registration & breakfast
08:45-09:00
welcome - Jason Dixon
09:00-09:30
keynote - John Allspaw
09:30-10:00
keynote - Dr. Neil J. Gunther
10:00-10:30
session - Mathias Meyer
10:30-10:45
morning break
10:45-11:00
sponsor talks
11:00-11:30
session - Cliff Moon
11:30-12:00
session - John E. Vincent
12:00-12:30
session - Jesse Newland
12:30-13:30
catered lunch
13:30-13:45
sponsor talks
13:45-14:15
session - Aaron Quint
14:15-14:45
session - Mark Imbriaco
14:45-15:15
session - Laura Thomson
15:15-15:30
afternoon break
15:30-15:45
sponsor talks
15:45-16:15
session - Kyle Kingsbury
16:15-16:45
session - Jordan Sissel
16:45-17:15
session - Joseph Ruscio
17:15-18:00
panel session
19:00-22:00
after-party @ The Asgard
Friday
08:00-08:45
registration & breakfast
08:45-09:15
hackathon - kickoff
09:15-10:15
workshop - Daniel Schauenberg
StatsD
hackathon
10:15-11:15
workshop - Pete Fritchman
Logstash
11:15-12:15
workshop - Sean Porter
Sensu
12:30-13:30
catered lunch
13:30-14:30
workshop - Michael Leinartas
Graphite
hackathon
14:30-15:30
workshop - Mike Dewar
D3.js
15:30-16:30
workshop - Dr. Neil J. Gunther
R
16:30-18:00
lightning talks & awards
Registration is... Sold Out!
Tickets sold out at 16:33 EDT on November 21, 2012. Please note that we will no longer be able to offer refunds after March 8, 2013.
We Love Our Sponsors.
Want to Be a Sponsor?
Thank you to all of our fantastic sponsors who joined our event this year. Sadly, we've had to close off new sponsorships but please stay in touch! We're looking forward to our next event and hope you can join us.
Where It All Happens.

We are enormously grateful to Microsoft for graciously offering the use of their NERD facility for the Monitorama event, without which this conference and hackathon would not be possible.
The Microsoft New England Research & Development Center (NERD) is a research and software innovation campus located in the heart of Cambridge, Massachusetts. The NERD vertical campus spans two buildings with its primary presence and conference center located at One Memorial Drive and a recently renovated and expanded space located at One Cambridge Center. NERD is home to some of Microsoft's most strategic teams including Microsoft Research New England, Microsoft Application Virtualization (App-V), SharePoint Workspace, Microsoft Technical Computing, Microsoft Advertising, Microsoft Lync, Microsoft Office 365 and more. NERD has become a hub of activity for the local tech community and has hosted more than 900 events and welcomed more than 80,000 visitors during the past three years.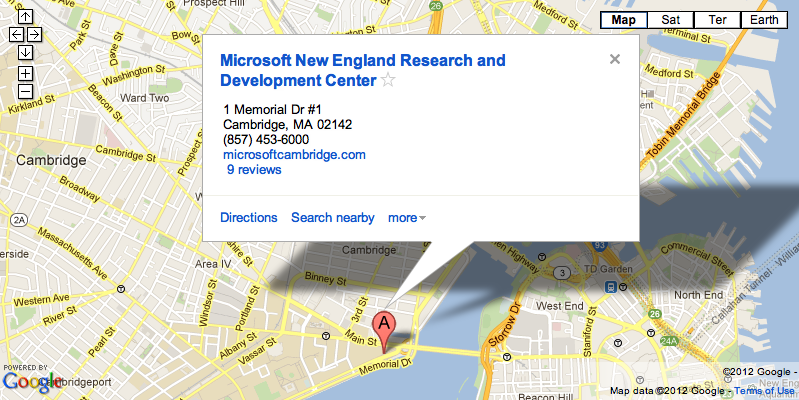 Looking for a Hotel?
We don't have a formal block of rooms reserved for the hotel, but we suggest either The Kendall Hotel or the Marriott Cambridge while there's space available. Both are walking distance from the NERD Center and have good reviews.
From Logan International Airport
Take the

Silver Line SL1

Express Bus Service from Logan to

South Station

(21 minutes)
Transfer to the

Red Line

Subway towards Alewife and get off at

Kendall/MIT

(7 minutes)
Walk to the Microsoft New England Research and Development Center (7 minutes)
From Boston South Station (Amtrak)
Take the

Red Line

Subway towards Alewife and get off at

Kendall/MIT

(7 minutes)
Walk to the Microsoft New England Research and Development Center (7 minutes)
Local Travelers
Check out the directions provided by the Microsoft NERD Center.